Item NO.:

MI-300/MI-350/MI-400 HM-300/HM-350/HM-400

Brand :

Soliswatt

Power :

3

00W| 3500W| 400W

Solar Module :

405W/472W/540W

Application :

On Grid Residential /Commercial Solar System

Warranty :

12 Years
Product Description
For the entire photovoltaic system, the component (solar panel) is only one link, and the micro-inverter undertakes the key task of converting natural energy into safe and usable electrical energy.Single-phase micro-inverters are mostly suitable for residential or small commercial projects.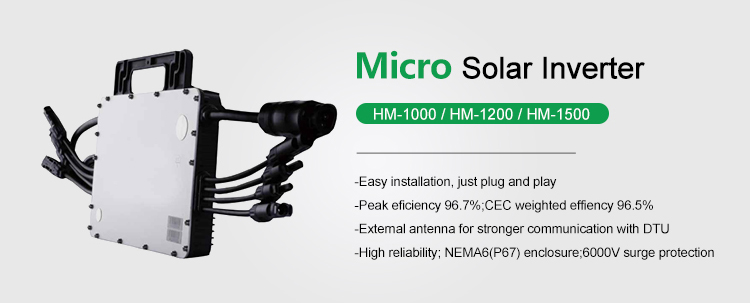 Microinverters turn the power from your solar panels into usable electricity. Single-phase microinverters are usually used in residential and small commercial environments. With Soliswatt, get frustration-free, long-lasting performance with simple installation, premium quality and low failure rates.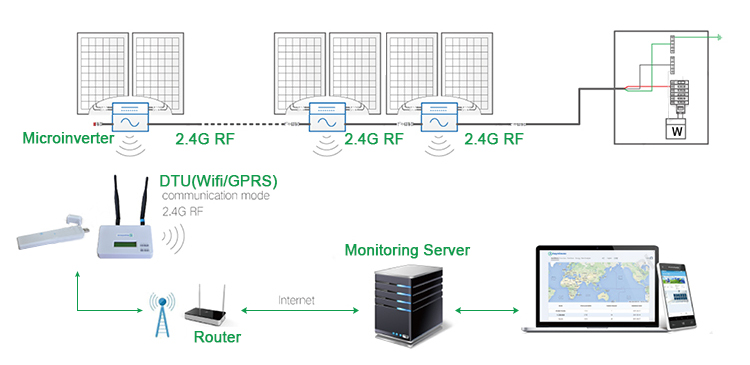 Advantage of Microinverter
1.Micro inverters are connected to solar panels,Each micro-inverter connects four components at the same time
2.The micro-inverter converts the direct current output from the solar panel into the daily usable alternating current
3.The data collector (DTU) is used to collect the operating data of the micro-inverter, and the power generation can be monitored on the S-Miles Cloud platform
4.HM micro-inverters can provide reactive power compensation and are equipped with external antennas to enhance communication.
1-in-1
HM-300/350/400
2-in-1
HM-600/700/800
4-in-1
HM-1000/1200/1500
Commonly used module power (W)
405/472/540
405/472/540
337/405/506
Maximum input voltage (V)
60
60
60
Maximum input current (A)
11.5/11.5/12.5
2×11.5/2×11.5/2×12.5
4×10.5/4×11.5/4×11.5
Rated output power (VA)
300/350/400
600/700/800
1000/1200/1500
Maximum units per branch
16/14/12
8/7/6
5/4/3
CEC peak efficiency
96.70%
96.70%
96.70%
Enclosure rating
IP67
IP67
IP67
Warranty
12 years standard
12 years standard
12 years standard
1-in-1
HM-300T/350T/400T
2-in-1
HM-600T/700T/800T
4-in-1
HM-1000T/1200T/1500T
Commonly used module power (W)
405/472/540
405/472/540
337/405/506
Maximum input voltage (V)
60
60
60
Maximum input current (A)
11.5/11.5/12.5
2×11.5/2×11.5/2×12.5
4×10.5/4×10.5/4×11.5
Rated output power (VA)
300/350/400
600/700/800
1000/1200/1500

Maximum units per 10AWG branch

24/21/18
12/10/9
7/6/4